About TGA


TGA ELITE CLUBについて
TGA ELITE CLUBの
園生活
Introducing a full day at Tezukayama Global Academy ELITE CLUB
With Montessori education as the main axis, we are developing first-class role models while experiencing world culture
A regular Saturday/Sunday for ELITE CLUB students
09:00 ~ 10:20
The Montessori activities are carried out in a bilingual environment, each child will take the initiative in developing their abilities using teaching tools. With help from the teachers, the child will learn how to use new materials independently. Montessori A lesson - This includes using Montessori materials to study English Language, learning different Cultures and Practical Life.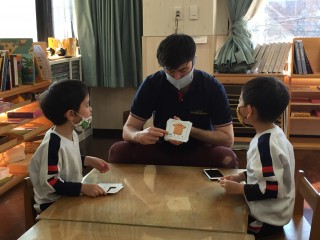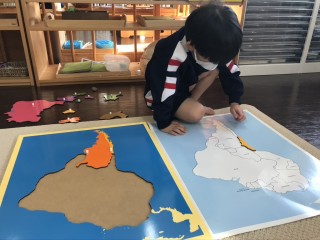 09:00 ~ 9:20
Morning snack time - Snack time is also part of Montessori learning. In the middle of the lesson the students will have a small snack break, they would have to apply jam on the bread, peel mandarins, bananas, and eggs themselves. We offer snacks from various countries and we prepare the snacks in our school.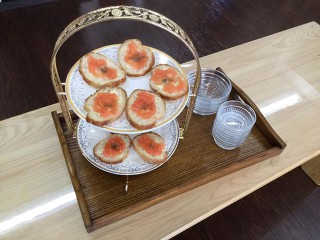 09:30 ~ 11:30
*Special course - Available only on Saturday
An elementary entrance examination preparation session, which solely focuses on the student's mental and physcial readiness for the upcoming elementary entrance exam.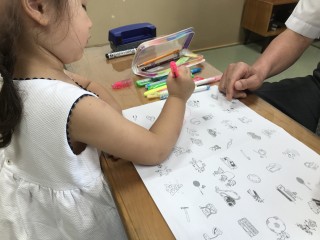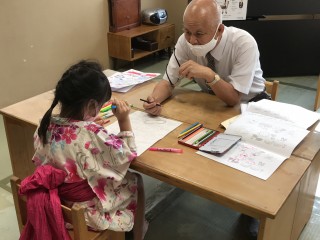 10:30 ~ 11:50
Montessori B lesson - this includes using Montessori materials to study mathematics and train their sensonrial ability.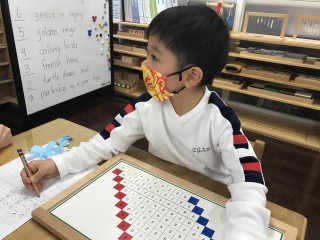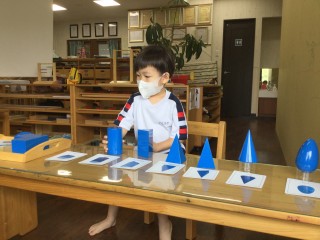 11:50 ~ 12:30
Lunch time - Our school lunch is provided by a well respected specialised school lunch catering company, the lunch is made with a well-balanced selection of healthy ingredients, mainly Japanese food. We do not use the duty system here however the students have to make preparation such as wipe the table and separate the dishes, the stduents also have to wash their own rice bowls and glasses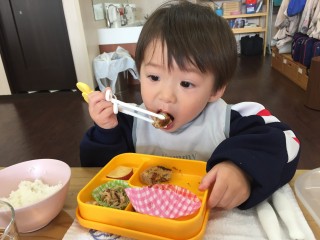 12:30 ~ 14:00
Afternoon nap time / Montessori materials time - Our older students who do not need to take a nap will continue their Montessori activities, read books etc, it is an important time for the children to concentrate on what interest them. The younger children who needs a nap will sleep during this time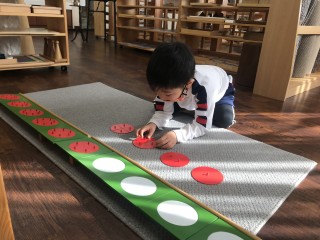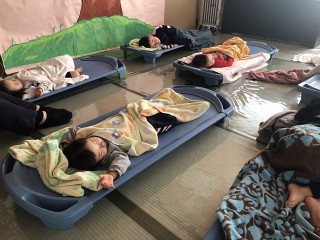 12:40 ~ 14:00
Gymnastics and Sports - In our gym the students can truly enjoy all aspects of physical education, the activites are not limited to the traditional ones such as running and jumping on a vaulting box, but other interesting ones where the students can enjoy trampoline, rock climbing etc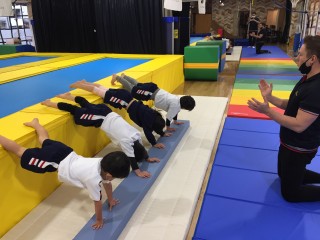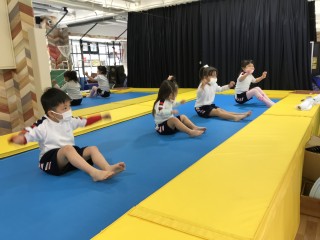 14:00 ~ 14:50
Brain training in Japanese language followed by a phyical educaiton lesson / English presentation lesson - For the children who had a nap will have a session focus on developing their abilities in Japanese, to learn the correct Japanese language and culture. Eg correct way of holding a pencil, correct posture and greetings. Follow by this children will have a fun P.E. session. The English presentation lesson is designed for older children to practice their english speaking ability in front of audience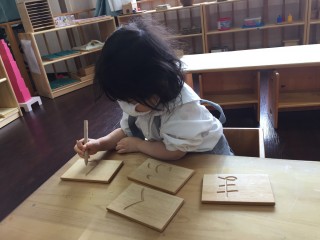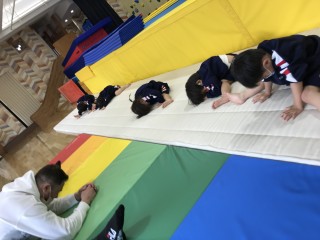 14:50 ~ 15:00
Afternoon snack time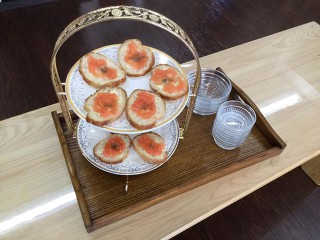 15:00
We will prepare the students and ready for you to pick up the children around this time. For the students who uses the school bus will be picked up from the designated area and time. After a full and fun day the students will return home with a smile. Photos of activities of the day will be send to the families who have registrated with the contact book application on your smart device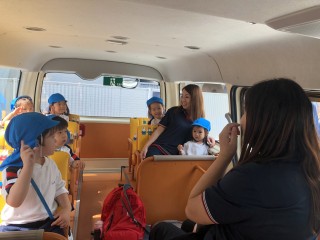 15:00 - 15:50
Adult gymnastics class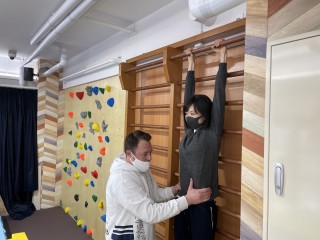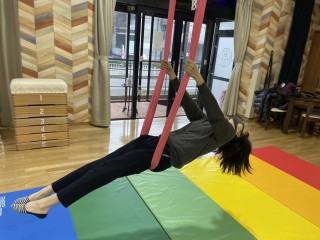 15:00 ~ 17:50
Extended care / Tutorial - Extended care is available for any family who require our service. This service is set as a 15 minutes units between 15:00 to 17:50 and can be arranged freely. Private sessions are available upon request, please contact us for further information.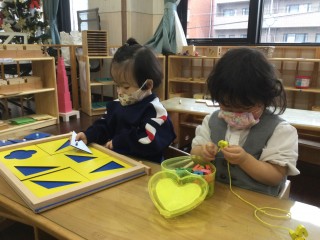 TGA ELITE CLUB COURSE SCHEDULE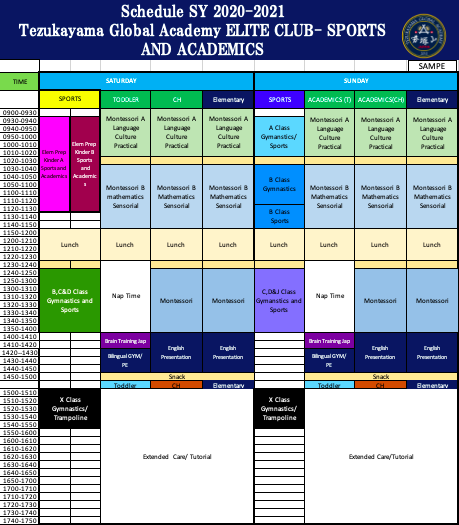 TGA ELITE CLUB EVENTS
Entrance・Graduation Ceremony
Every year in April, we hold an entrance ceremony for our new students. Also, at the end of the fiscal year we hold a graduation ceremoney for the students.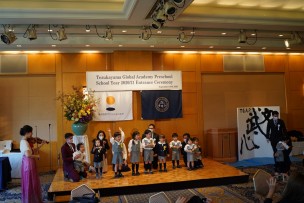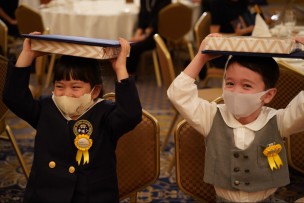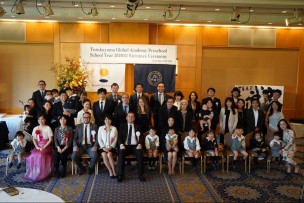 Excursion
During our school year a range of excursions are planned to complemnt and extend our educational program. These vary each year depending on the interests and needs of the our students and parents are invited to some of our excursion as well. We believe this is a good opportunity for the parents to share their interests, skills, hobbies to enhace the students's experiences and learning.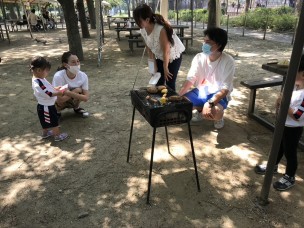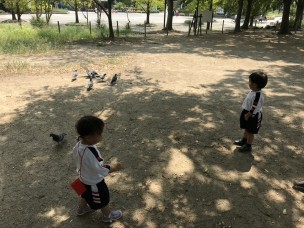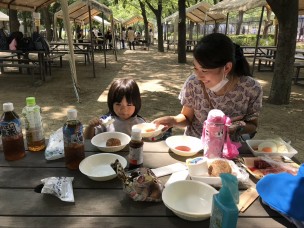 Halloween Party
Halloween party is one of the major event of the year and it is held in November, family members are invited to participate this unique and fun event, dress up costumes and different games involving both parents and the students. it is a good opportunity for the students to have great fun with the parents and other family members.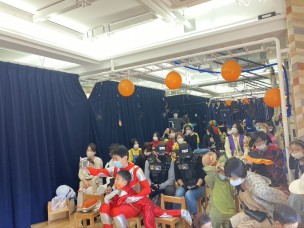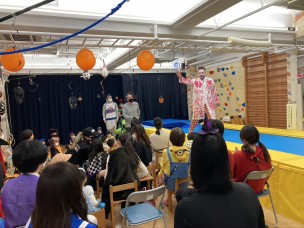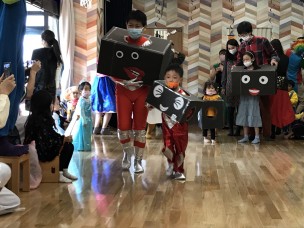 Sports Day
Sports day is an all day activity held around April when weather is fine and cool. The children demonstrate their gymnastic skills to the parents, participate in a wide range of sports activities, cheer on their fellow classmates, and learn valuable lessons in sportsmanship. Every child is a winner here in our school and all children are guaranteed to win at least a couple of medals for their efforts.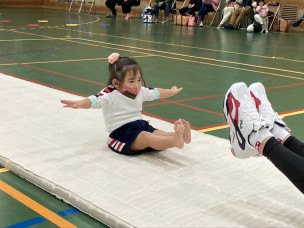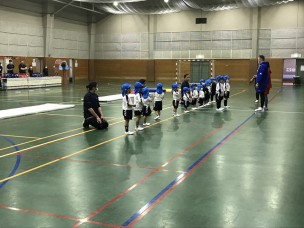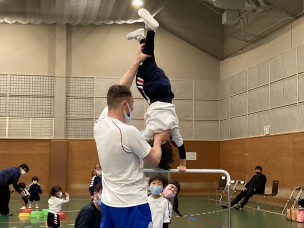 Christmas Party
Christmas Party is one of the last major event of the year and it is held in December. A performance on the stage are presented by the students for their parents to enjoy, there is also an appearance of Santa Claus who distribute presents to our students. The students and parents can enjoy all the Christmas games and activities plus delicious meals that our school serves.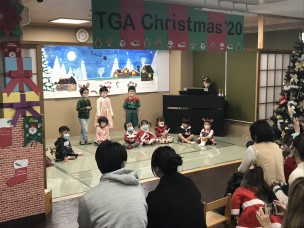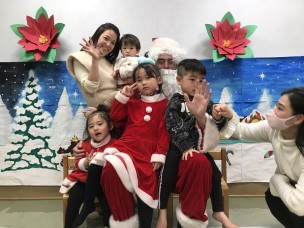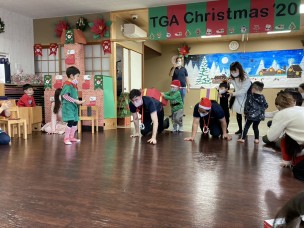 EC Education
About ELITE CLUB
Co-Ordination Training
Access
Admission
Program for Adults