SHODOSHIMA NIGHT TRIP 2023
Why the Island of Shodoshima?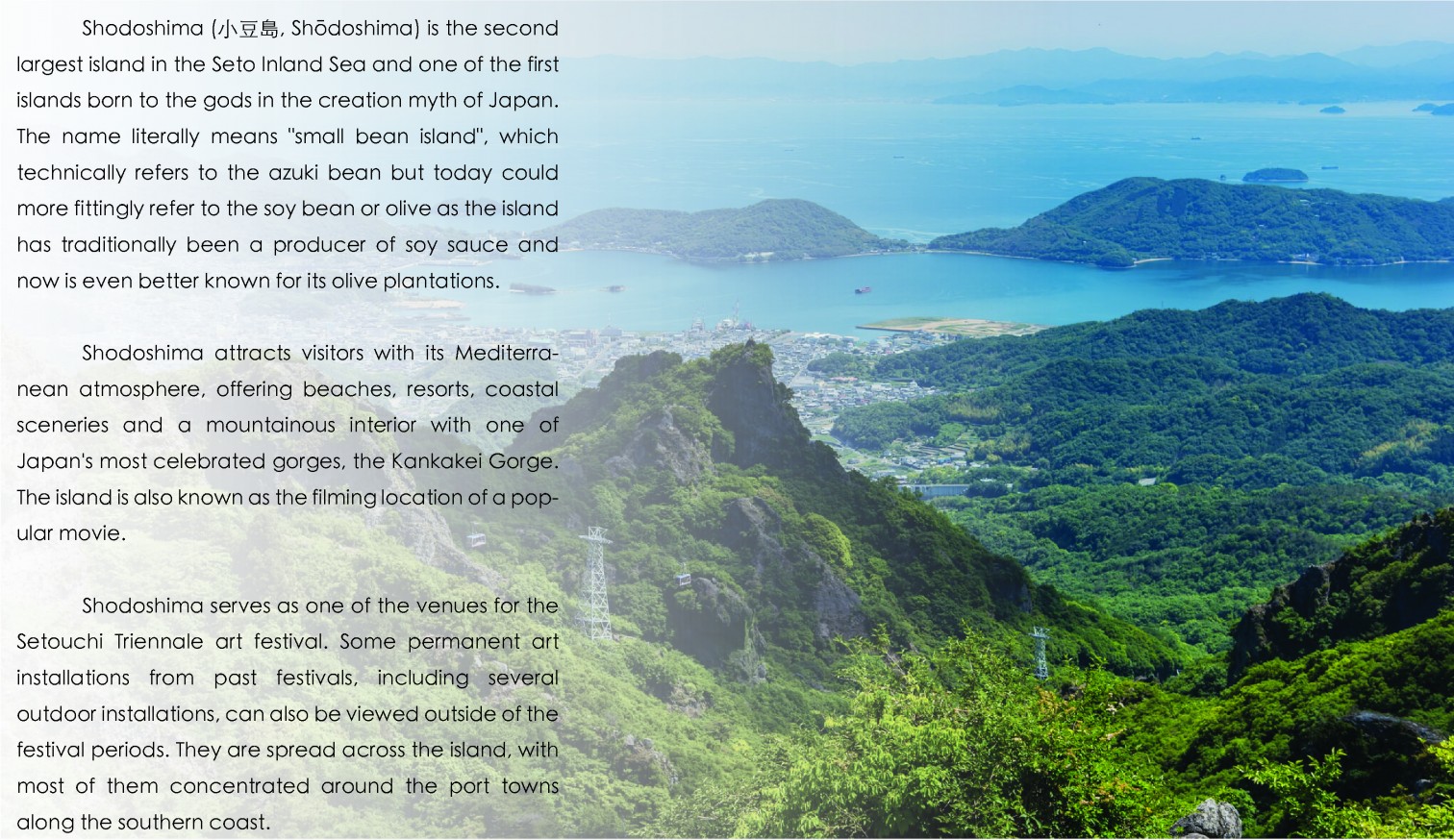 PURPOSE
Practicing grace and courtesy, learning different ways to act in different social situations;

Developing resilience, courage, and independence in their social interactions;

Appreciating and respecting our environment by touching nature, learning history, and experiencing geography;

Applying classroom teaching experience in a real-world setting, boosting their confidence, and;

Developing responsibility, research skills, manners, cooperation and communication skills in an attempt for enhancing leadership skills for leading the world in the future some day.
PROGRAM
* DAY 1 (Monday July 31st; starts 7:00 am)
* DAY 2 (Tuesday, August 1st; ends 8:00 pm)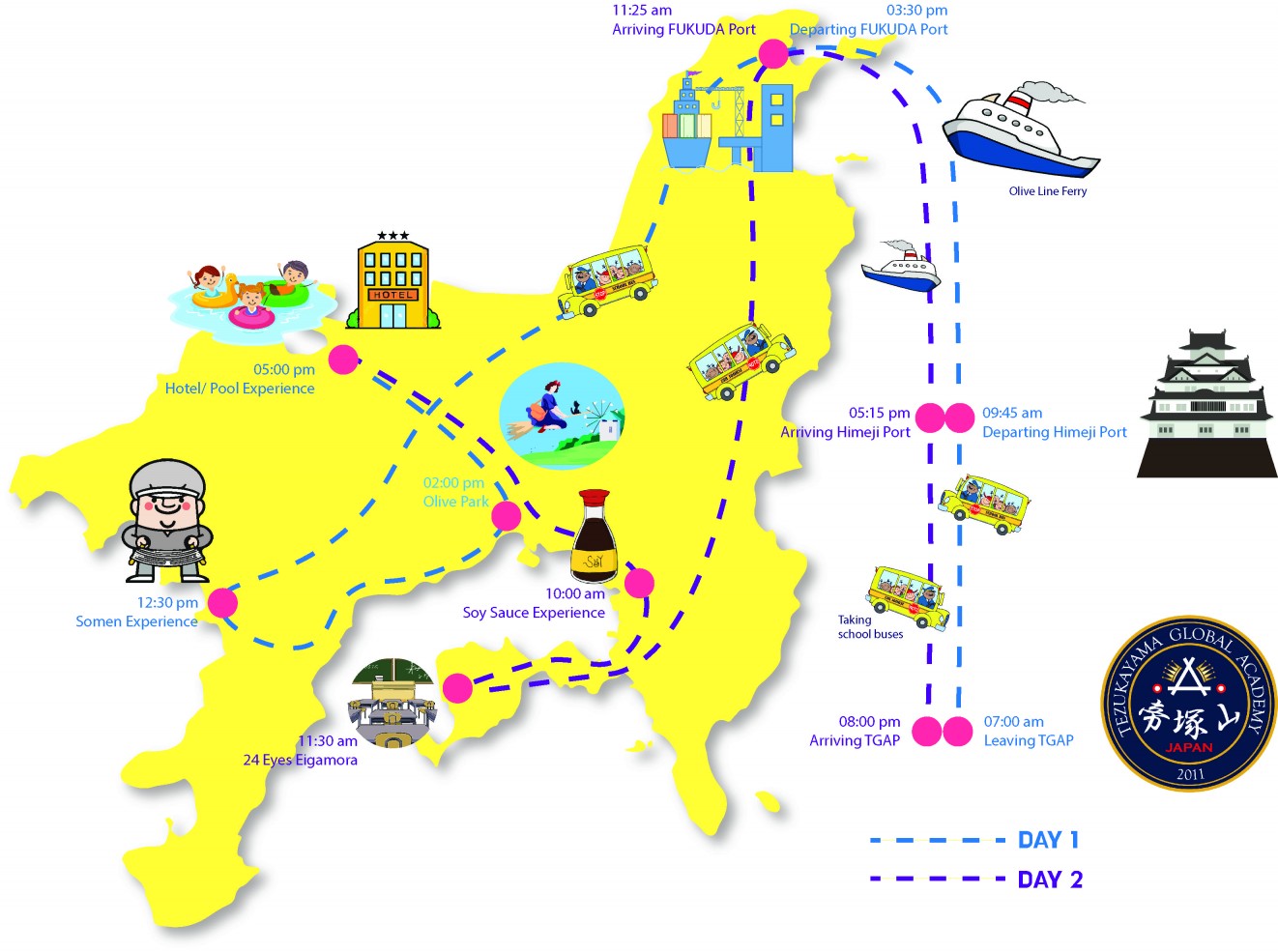 NIGHT TRIP EXPERIENCES
(1) FERRY EXPERIENCE
* Our students will be enjoying the beautiful scenery of the Seto Inland Sea along the journey.
* The trip members will have plenty of in place English card games and conversational activities.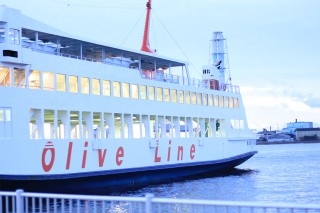 (2) SOMEN EXPERIENCE
Shodoshima somen noodles are stretched by hand the traditional way, acquiring a deliciously chewy texture. Try nama-somen, or unprocessed noodles, that have a much different flavor than the usual dried variety.

In a process unique to Shodoshima, noodles are mixed with sesame oil during the stretching process to help prevent oxidization.

* Our TGA students will be touring a Shodoshima Tenobe Somen facility and taking part in stretching and dividing the noodle dough using chopsticks.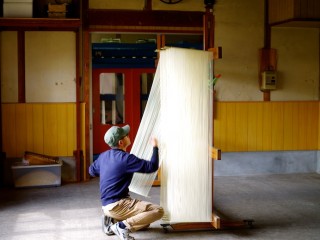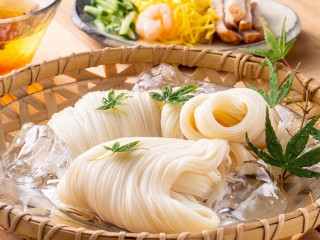 (3) VISITING OLIVE PARK
The Olive park includes about 2,000 olive trees and over 130 different varieties of herbs are grown throughout the spacious grounds.
The Park is also famous as the setting of the animated movie, "Kiki's Delivery Service". Students will be borrowing a magic broomstick from the Olive Memorial Hall, and the park is full of people having fun taking pictures of themselves riding broomsticks just like Kiki. The area around the Greek style white windmill is a popular photo spot.

Also, within the park, our students will be learning to make your own herbal sachet or potpourri. They will also search for a heart-shaped olive leaf, which is said to bring happiness to whoever finds one. In addtion, they will even turn leaves into a bookmark and take it home with them!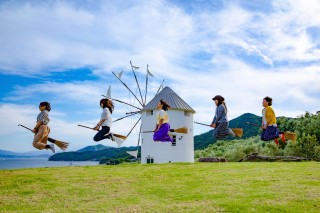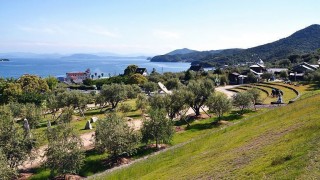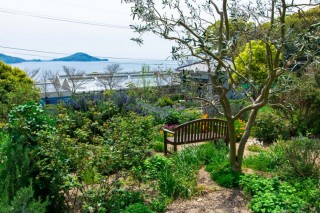 (4) HOTEL STAY AND POOL
The night trip members will be staying at Olivean Shodoshima Yuhigaoka Hotel. Olivean is a luxury resort hotel floating in the Seto Inland Sea of Japan. Convenient hotel for sightseeing during the Setouchi International Art Festival. Olivean Shodoshima Yuhigaoka Hotel provides both Japanese healings and the comforts of the hotel use. A breathtaking view of Shodoshima from each room offers you a perfect resort stay.
Pool Experience
Students and teachers will be enjoying the large and the small pools. Students will be required to bring their pool floats.
Accommodation
The school booked Western-Style Standard rooms with ocean view. Each room will accomodate two students with a teacher. All rooms are well-equipped with air conditioner and climate control, telephone, refrigerator, TV, hair dryer, toilet with bidet and electric kettle. So our students can stay comfortably with teacher.
Meals
TGA students will enjoy the Olivean Shodoshima Yuhigaoka Hotel's Casual Breakfast and Dinner Buffet. There will be more than 50 different Japanese and Western seasonal dishes with a focus on specialty local ingredients – benefit of the Mediterranean climate and fresh seafood in the Seto Inland Sea.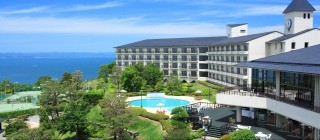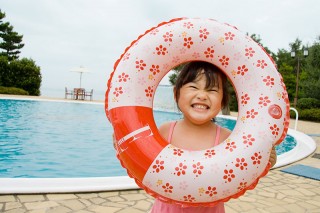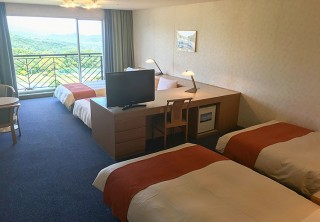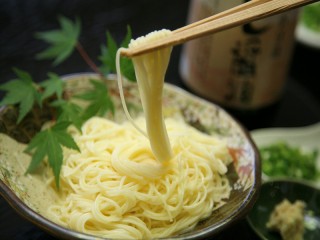 (5) SOY SAUCE EXPERIENCE
The production of soy sauce on Shodoshima began in the latter half of the Edo period (1603–1867), when a nationwide oversupply of salt forced local producers to pursue alternative means of subsistence. The industry experienced its greatest period of prosperity around the turn of the twentieth century, when up to 400 soy sauce breweries operated on the island. About 20 of these remain in business today. Most of the breweries are located in an area called Hishio no Sato, where the unmistakable aroma of soy sauce wafts over the neighborhood.

Shodoshima soy sauce is fermented in wooden barrels called koga, in which the microbes that give the product its distinctive taste live. Though most factories elsewhere now make their soy sauce in stainless steel tanks, the brewers of Shodoshima have kept to their koga, of which there are about 1,000 on the island. That is thought to be around half of all such barrels still in use throughout Japan. Soy sauce is used extensively in Japanese cooking, including in the making of tsukudani, which is small pieces of seaweed, fish, or vegetables simmered in soy sauce, sugar, and mirin (sweet cooking wine). A popular condiment often eaten with rice, tsukudani is made by a number of local companies and is widely available on the island.
* Our TGA students will take a tour of the breweries run by soy sauce producers Marukin and Yamaroku. Many breweries in Soy Sauce Village sell sweets made with soy sauce, such as soy sauce soft-serve ice cream (We will give it a try!).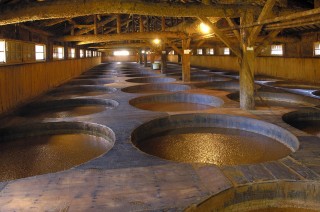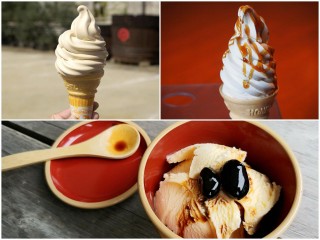 (6) TWENTY FOUR EYES MOVIE STUDIO
This little village of 10,000 m2 is located approximately 700m inland from Tanoura Fishing Port on the east end of Shodo Island. The surroundings were used as an outdoor set for the filming of "Nijushi no Hitomi (Twenty-Four Eyes)" based on the book by Tsuboi Sakae, a representative author of Japan. Today, this village, overlooking the Seto Inland Sea, is often used for various projects, including TV commercials, dramas and films, and is known as a scenic filming location representing West Japan.
In the village our students will admit a wooden school building, fishermen homes, flower fields which change with the seasons, many traditional, Japanese cultural objects, the TSUBOI SAKAE memorial museum, Japanese Cinema Gallery, "Kinema no Iori". At the latter we will try a school lunch set with old fashioned alumite tableware.