TGA
Montessori Subject
Subjects
TGAでは基本的な生活・感覚・算数・言語・文化の基礎科目に加え、ICTやSTEMサイエンス、音楽他時代のニーズに合わせたカリキュラムを行なっています。また、小学生モンテッソーリクラスでは、数と幾何、地理、歴史、生物、動物学などに細分化し、よりハイレベルな環境と教育を提供しています。
Montessori1.Practical Life/日常生活の練習
Through various exercises in daily life, you can grow your life from addiction to independence, and also develop a spiritual independence.
Use child-sized teaching tools that are easy for children to handle. In addition, it is easy to wash and keep it clean at all times, and the child uses something that he / she notices as a teaching tool.
It is also important that it is genuine, such as pottery or glass that will break if dropped. By using genuine teaching tools, you will also practice how to feel the beauty of the real thing and how to handle it carefully so as not to break it.
日常生活の様々な練習を通し、自分の生活を依存から自立へと成長させ、さらには精神的にも自立する心を育てます。
子どもが扱いやすいような子供用サイズの教具を使います。また、簡単に洗えて常に清潔に保つことができ、子供自身が汚れに気付くものを教具として使います。
また、落とせば割れてしまう陶器やガラス製のものなど、本物であることも重要です。本物の教具を使うことによって、本物の持つ美しさを感じとったり、壊さないように大切に取り扱うことも練習していきます。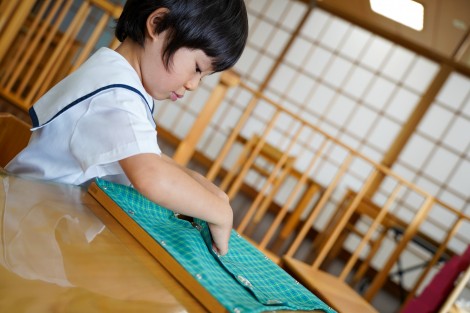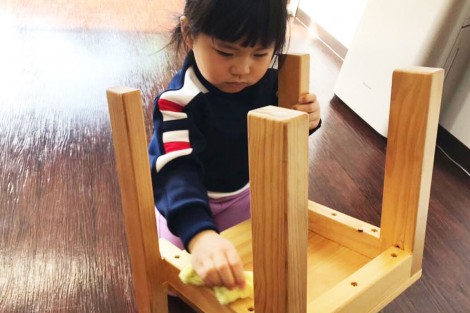 Montessori 2.Sensory Education/感覚教育
Children have a special period between the ages of 3 and 6 when the five senses of sight, hearing, touch, smell and taste develop significantly. Sensory development is of particular importance in Montessori education as it forms the basis of intellectual activity.
As teaching tools for sensory education, the famous "Pink Tower", which stacks 10 large and small cubes from the largest, and the "Cylindrical Sashimi", which cultivates vision such as large, small, high, low, and thick, and smoothness of roughness. We will utilize the "tactile plate" that nourishes the sense of touch, and the "sound bell" that identifies the pitch of the sound by hearing.
The teaching tools are devised so that if there is an error in the usage, they will be noticed by themselves, and it will lead to the growth and cultural development of the child, and each teaching tool will be prepared with one set. This will also help you to develop etiquette and sociality, such as remembering to wait and negotiating for a replacement when your friends are using the teaching tools you want to do.
子供は3歳から6歳の間に、視覚、聴覚、触覚、臭覚、味覚の五感が著しく発達する特別な時期があります。感覚の発達は知的活動の基礎となるため、モンテッソーリ教育の中でも特に重要とされています。
感覚教育のための教具としては、有名な、大小10個の立方体を大きい方から積み上げていく「ピンクタワー」や、大小・高低・太細など視覚を養う「円柱さし」、粗さ滑らかさなど触覚を養う「触覚板」、聴覚で音の高低さを識別する「音感ベル」などを活用します。
教具は、使い方に誤りがあれば自分で気付くように工夫されており、また、子供の成長や文化的発展につなげるとともに、各教具は1セットずつ備えておくようにしています。これは、自分のやりたい教具を友達が使っている場合に、待つことを覚えるたり、代わってもらうための交渉を行うなど、マナーや社会性を身に付けることにも役立ちます。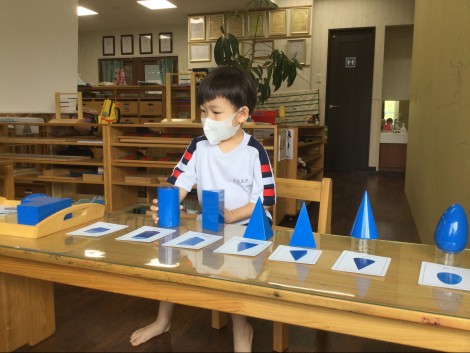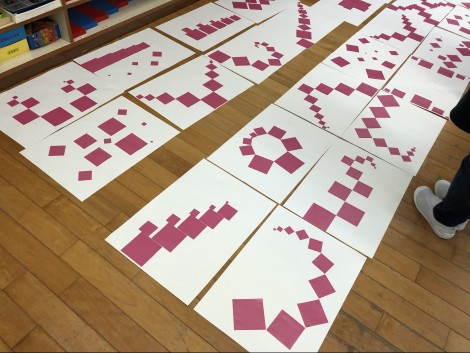 Montessori3.Language Education/言語教育
We practice systematic language education according to the sensitive period of language development. At Montessori, based on daily life practice and sensory education, we will use games and word games that suit children's interests and tendencies to introduce and develop language education.
As teaching tools for language education, "Metal Insets" are used to practice writing such as drawing lines along a geometric frame, and hiragana and katakana are written one by one in rough sand on a slippery table. , Use teaching tools such as a "sand dial" that you can trace with your fingers.
Not only "speaking", "writing" and "reading", but also "grammar" and "sentence composition" can be learned from an early stage, which will lead to improvement of language ability.
言語発達の敏感期に従い、系統だてられた言語教育を実践しています。モンテッソーリでは、日常生活の練習と感覚教育を基礎とし、子供の興味や傾向に適したゲームや、言葉遊びを言語教育の導入や展開に使っていきます。
言語教育の教具としては、幾何学形の枠に沿って線を書くなどの運筆練習をする「メタルインセッツ」、つるつるした台にザラザラの砂文字で平仮名、カタカナが1文字ずつ書かれており、指でなぞる「砂文字板」などの教具を活用します。
「話す」「書く」「読む」だけではなく、「文法」や「文章構成」も早い時期から学び、言語能力の向上につなげます。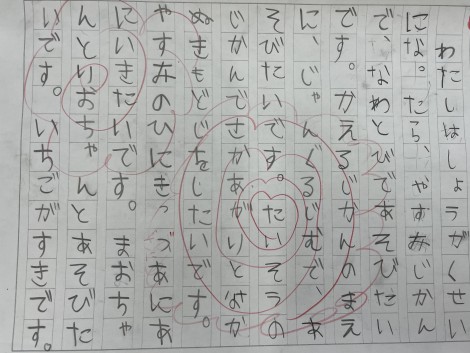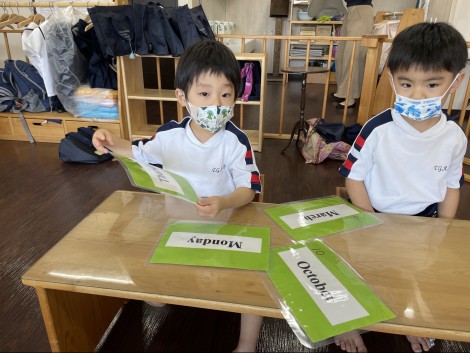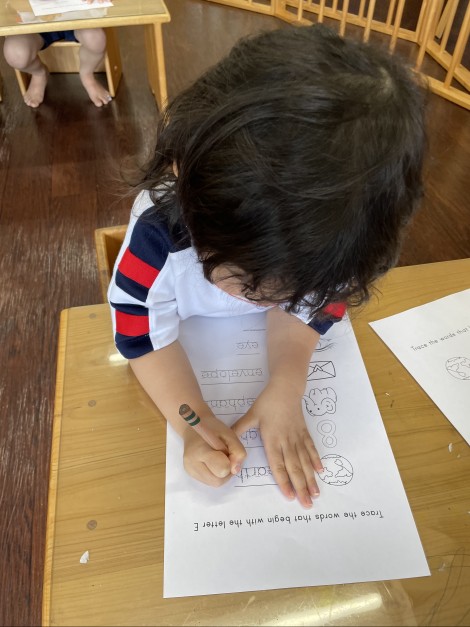 Montessori4.Arithmetic Education/算数教育
We will start Montessori's Mathematics Education from the "quantity" that can be grasped concretely.
Arithmetic teaching tools are systematized so that they can be easily expanded from the concrete to the abstract world. For example, the decimal system is learned by using 1, 10, 100, and 1000 "gold beads" while experiencing numbers visually and by weight. "Bank play", "stamp play", "snake play", etc. are teaching tools that allow groups and individuals to learn four-digit arithmetic operations.
In mathematics education, we emphasize the three-way relationship of "quantity", "numerals" used to express the quantity, and "numbers" used to describe the quantity, and acquire the concept of quantity by matching these three. ..
具体的に感覚で捉えることのできる「数量」からモンテッソーリの算数教育を始めます。
算数教具は、具体から抽象の世界へ、無理なく展開できるよう系統だてられています。例えば、十進法は、1、10、100、1000の「金ビーズ」を用いて、視覚や重さなどで数を体感しながら学びます。「銀行あそび」、「切手あそび」、「蛇あそび」などはグループおよび個人で4桁の四則演算を学ぶことができる教具です。
数学教育では、「数量」と、その数量を言い表すときに使う「数詞」、書き表すときに用いる「数字」の三者関係を重視し、これら3つを一致させることで数量概念を身に付けます。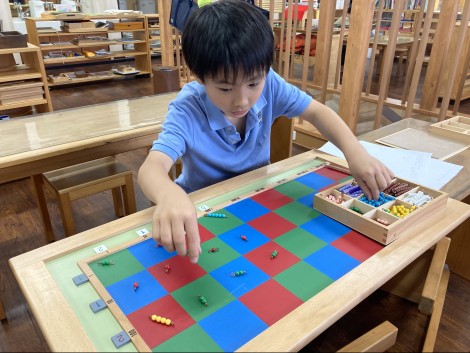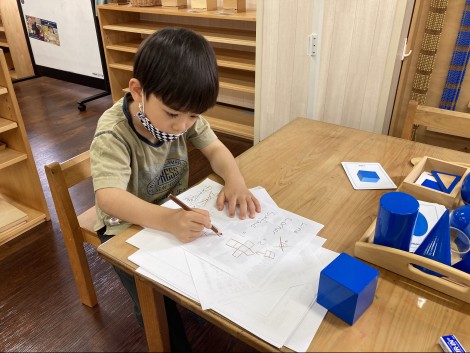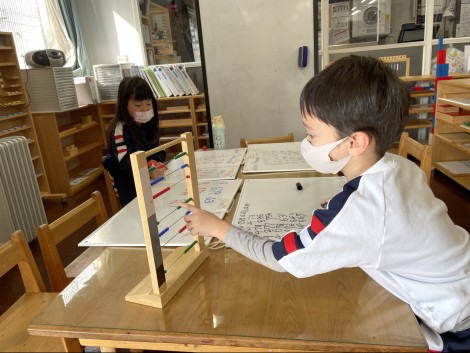 Montessori5.Cultural Education/文化教育
We will come into contact with culture from various fields such as Flora and Fauna, Geography, Earth Science, History, Morality (Religion), Music, Physical Education, and Art.
Montessori Cultural Education teaching tools include "models of planets in the solar system", "world map / Japanese map puzzles", and "picture cards of animals and plants" to foster interest in the mystery of life and expressiveness related to art.
In addition, the Montessori teachers at our school are from various countries and the Japanese teachers are also familiar with the global culture having overseas experience themselves. Through daily involvement, you can come into contact with the languages ​​and cultures of various countries.
動植物、地理、地学、歴史、道徳(宗教)、音楽、体育、美術など様々な分野から文化に触れていきます。
モンテッソーリ文化教育の教具には、「太陽系の惑星の模型」や「世界地図・日本地図パズル」、「動植物の絵カード」などがあり、生命の神秘への興味や芸術に関する表現力などを育てることができます。
また、当園のモンテッソーリ講師は、出身国も様々で、日本人講師も海外経験のあるグローバルな文化を熟知している先生たちです。日々の関わりの中で、様々な国の言語や文化に触れることができます。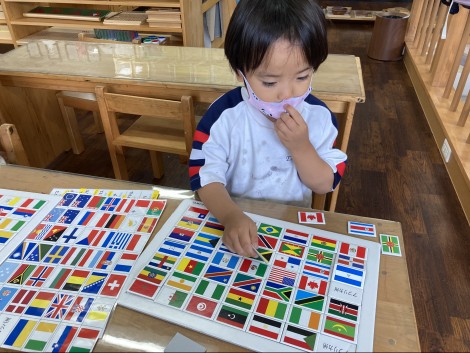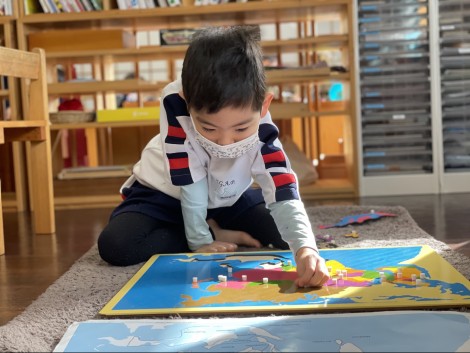 Montessori6.IT discovery/ITディスカバリー
We also practice IT discovery using tablet terminals and videophones. On tablet devices, you can use IT tools to learn Montessori, which you usually do in your daily activities, using an app tool that allows you to practice Montessori learning. At the same time, we will develop thinking ability that can make full use of IT and skills to utilize IT tools, and develop IT literacy that can play an active role in various fields in the future.
タブレット端末やテレビ電話などを用いたITディスカバリーも実践しています。タブレット端末では、モンテッソーリの学習を実践できるアプリツールにより、普段の日常活動で行っているモンテッソーリをITツールを活用して学んでいきます。ITを駆使できる思考能力と、ITツールの活用スキルを同時に育成し、将来、様々な分野で活躍できるITリテラシーを育みます。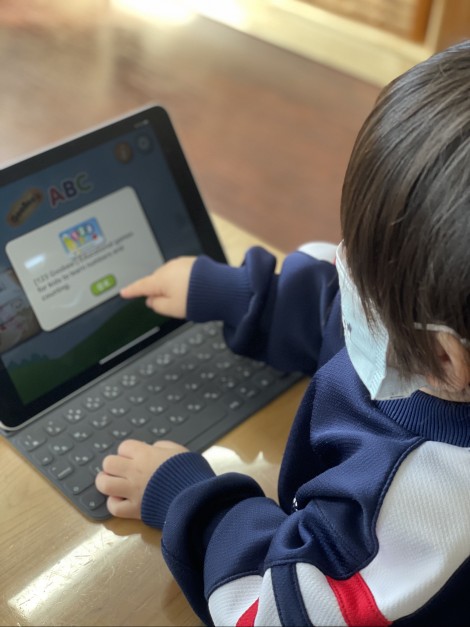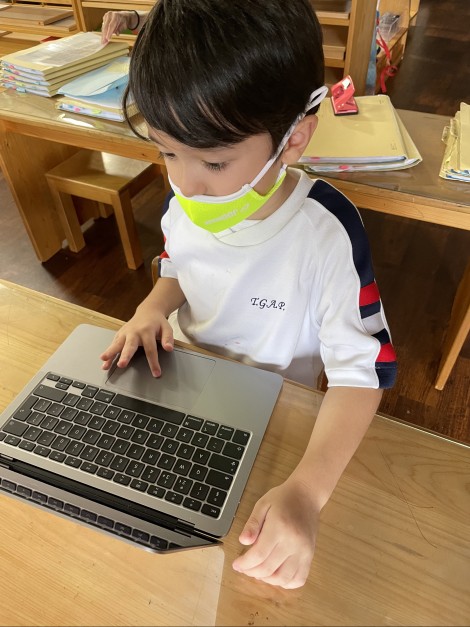 Montessori7.STEM Science サイエンス
In out STEM Science class, the children use a various kinds of equipment to experience science. We provide not only science but all field related to the science to let the child realize how their study will be connected to their real life.
STEMサイエンスクラスでは、様々な実験器具を使用し、サイエンスの分野にこだわらず算数や文化教育、音楽など、他の分野との統合性を大切にしたカリキュラムを取り入れています。学んでいることが実際にどのように実社会で活用できるのかを子供達が実感できることを大切にしています。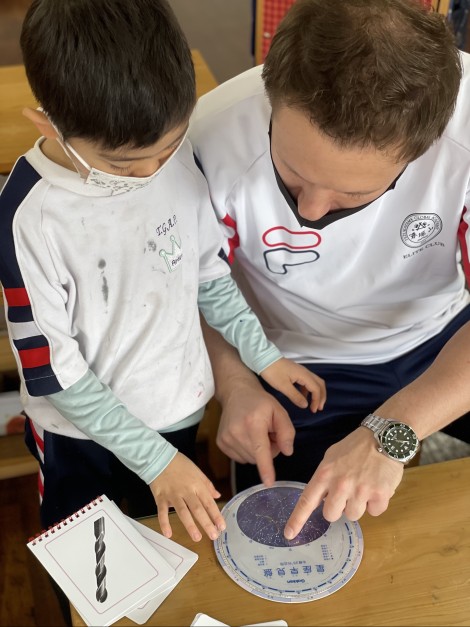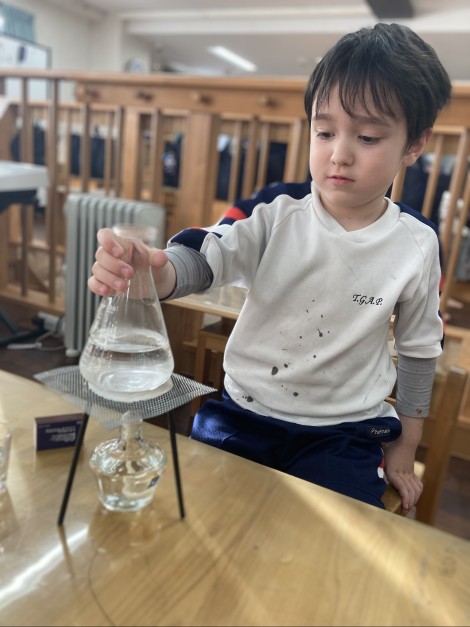 Montessori8 Music and others 音楽・その他
Our students also experience Music, Reading/Writing, Planting folowers, Group meeting, World fairy tails, Library day, Occupational experience excursion, and so on.
TGAではその他、音楽や読み書き、植物を育てること、野外散策、グループミーティング、世界の童話、図書館デー、クッキングデー、職業体験遠足など、様々なカリキュラムを取り入れています。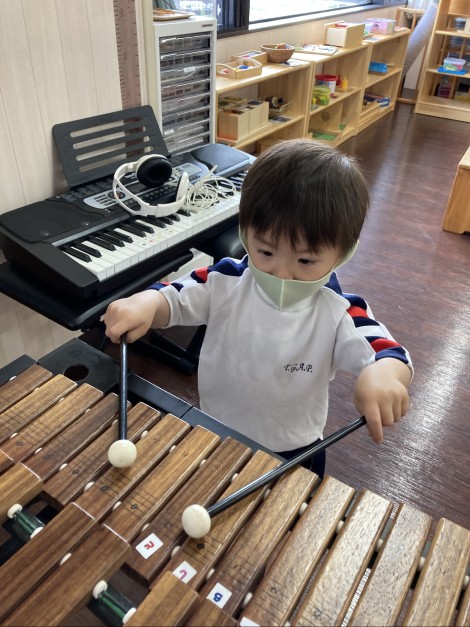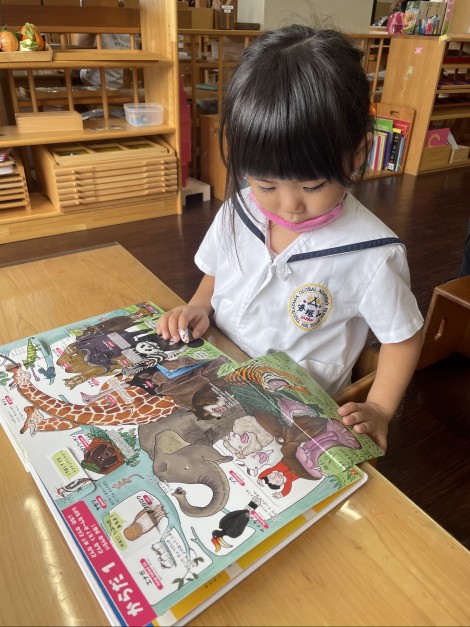 TGAPでは、モンテッソーリ教具を多数揃え、本格的環境を整えています。