Montessori Environment
TGA Facilities
School Facilities: Montessori Environment & Professional Gymnastics
Montessori Chidren's House (2nd Floor)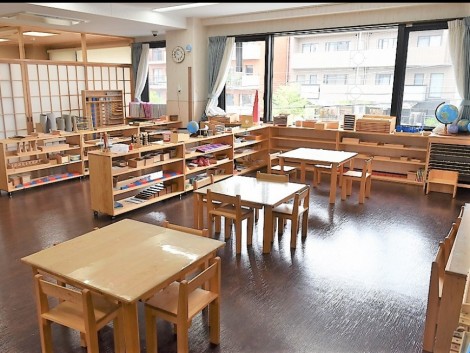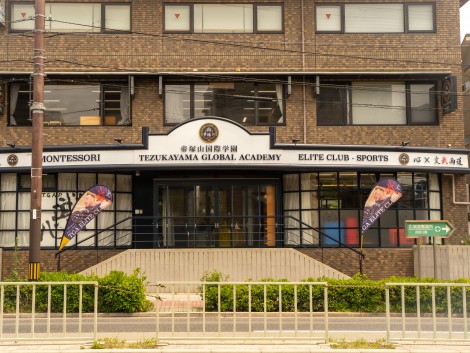 The Montessori classroom on the 2nd floor emphasizes the development of an environment where children can play and work freely with peace of mind. Keep the classroom clean and overlook the classroom from the child's perspective. And it should be a place like a house where you can spend your time calmly.
We thoroughly implement these, aiming to practice sports and Montessori education at a higher level, and while borrowing the wisdom and skills of first-class specialists, we are preparing an environment where children can spend their time with great care.
2階モンテッソーリ教室は、子供たちが安心して自由に遊び、作業のできる環境整備を重視します。教室が清潔に保たれ、子供の目線で教室を見渡せること。そして落ち着いて過ごすことができるお家のような場所であること。
私たちは、これらを徹底し、さらに高度なレベルでのスポーツとモンテッソーリ教育の実践を目指し、一流の専門家の知恵や技術もお借りしながら、こだわりをもって子供たちが過ごす環境を整えています。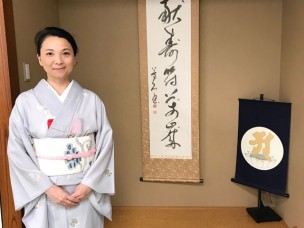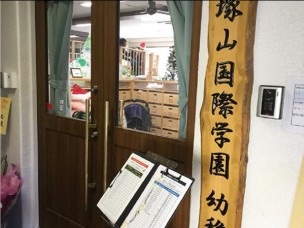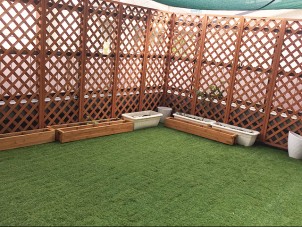 TGA GYM HALL (1st Floor)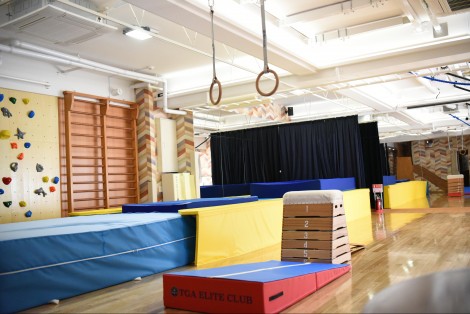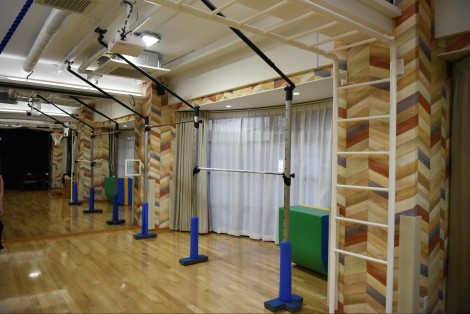 The TGA Hall on the 1st floor is a multi-purpose facility where you can play ball games such as basketball and table tennis in addition to full-scale equipment, there are many professional equipment such as professional trampolines for gymnastics, rings, vaulting boxes, horizontal bars, bouldering, and untei.
1階TGAホールは、体操専用のプロ用トランポリンをはじめ、吊り輪、跳び箱、鉄棒、ボルダリング、ウンテイ他、本格的な設備に加え、バスケットボールや卓球などの球技もできるマルチ施設です。
Lecturer: Montessori Education Master
講師:モンテッソーリ教育習得者
In Montessori education, the presence of teachers who interact with children is considered to be one of the important components of the environment, as is the case with schools and teaching tools. It is necessary to have an appropriate environment as a Montessori instructor, such as skills to handle and manage teaching tools, an attitude of carefully observing children, and the ability of each person to provide education according to the needs of children.
At TGAP, all teachers are studying to become Montessori teachers or Montessori teachers. Maria Montessori, the creator of Montessori education, has put a lot of effort into training Montessori teachers, but by practicing thorough Montessori education here at Tezukayama International Academy, we have realized the succession of the skills and abilities of Montessori teachers and further development. I am.
モンテッソーリ教育において、子供たちと関わる講師の存在は、学園や教具と同様に、環境を構成する重要な要素のひとつと考えられています。教具などを取り扱う技術や管理する能力、子供を注意深く観察する態度、一人ひとりも子供の欲求に沿って教育を提供する力など、モンテッソーリ講師として適切な環境となることが求められます。
TGAPでは、すべての先生がモンテッソーリ講師もしくはモンテッソーリ講師を目指し勉強をしています。モンテッソーリ教育の生みの親であるマリア・モンテッソーリが力を注いだ厳しいモンテッソーリ講師育成ですが、ここ帝塚山国際学園でも徹底したモンテッソーリ教育を実践することでモンテッソーリ講師の技術と能力の継承、そしてさらなる発展を実現しています。
Sensitive Period: Acquisition Timing Discovered by Observation
敏感期:観察で発見する習得タイミング
Montessori education emphasizes spontaneity in children as well as sensory education. This is an indispensable force to play an active role in the world with people of various cultures and backgrounds in the international community in the future. Maria Montessori, who was also familiar with brain physiology, calls the period suitable for ability development the "sensitive period", although there are optimal times for acquiring various abilities.
Sensitive periods include motor sensitive periods, sensory sensitive periods, order sensitive periods, spoken language sensitive periods, letter sensitive periods, number sensitive periods, and cultural sensitive periods, and this intellectual curiosity is spontaneous. At the time when it appears, you choose your own activity and repeat the activity until you are satisfied with your rhythm.
At our school, Montessori teachers carefully observe the "sensitive period" of each child as a helper to maximize the acquisition of various abilities. And when the children are concentrated, they do not interfere with it, provide a free environment where the children can choose their own teaching tools voluntarily, and sometimes they have attractive teaching tools that make them want to try. We have created an educational environment that respects the ability to grow on our own.
モンテッソーリ教育では、感覚教育と同様に子供の中の自発性を重んじています。これは、将来、国際社会で様々な文化や背景を持つ人々と共に世界で活躍するために、欠かさない力です。さまざまな能力の獲得には、それぞれ最適な時期がありますが、脳生理学にも精通していたマリア・モンテッソーリは、能力開発に適した時期のことを「敏感期」と名づけています。
敏感期には、運動の敏感期、感覚の敏感期、秩序の敏感期、話し言葉の敏感期、文字に対する敏感期、数に対する敏感期、文化の敏感期などがあり、この知的好奇心が自発的に現れる時期に、自分で自分の活動を選び、自分のリズムで納得いくまで繰り返し活動します。
当園では、モンテッソーリ講師が、さまざまな能力の獲得を最大化させるため援助者として、一人ひとりの子供の「敏感期」を注意深く観察しています。そして、子供たちの集中時、それを妨げず、子供の自発性をまって子供が自発的に教具を選べる自由な環境を提供し、時には、やってみたいと思わせる魅力的な教具を揃え、自ら成長しようとする力を尊重した教育環境を整えています。
Montessori Teaching Tools
We have Montessori teaching tools that can guide your senses to develop in a rational way. The teaching tools are used by touching the hands and the infant has the role of establishing and completing the functions in the process of development. We divide the senses into five senses: sight, touch, hearing, taste, and smell, clarify classification, identity, and graduality, and lay the foundation for intellectual development.
当園では、感覚が合理的な方法で発達するように導くことができるモンテッソーリの教具を揃えています。教具は手で触って使い、幼児が発達の過程にある機能を確立させたり完成させたりする役目を持ちます。感覚を、視覚・触覚・聴覚・味覚・嗅覚の5つに分け、分類化・同一性・漸次性を明確にし、知的発達の基礎をつくっていきます。
Montessori8 Music and others 音楽・その他
Our students also experience Music, Reading/Writing, Planting folowers, Group meeting, World fairy tails, Library day, Occupational experience excursion, and so on.
TGAではその他、音楽や読み書き、植物を育てること、野外散策、グループミーティング、世界の童話、図書館デー、クッキングデー、職業体験遠足など、様々なカリキュラムを取り入れています。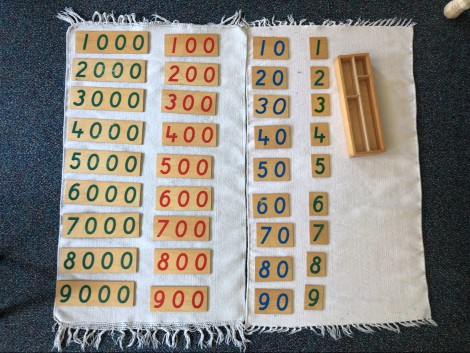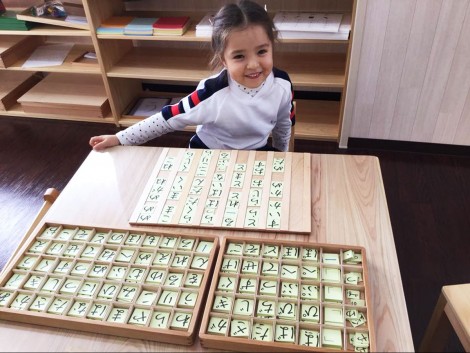 TGAPでは、モンテッソーリ教具を多数揃え、本格的環境を整えています。